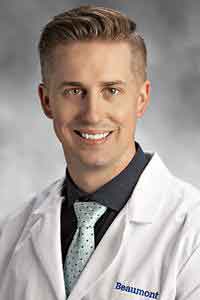 Dr. Ryan Ouillette is a Board-Certified Orthopedic Surgeon at Florida Advanced Spine and Orthopedics. Dr. Ouillette attended Wayne State University School of Medicine in Detroit. Completing his orthopedic surgery residency at the University of Texas Medical Branch Hospital in Galveston, Texas, Dr. Ouillette acquired extensive knowledge and skills in orthopedics. To further specialize in his area of interest, he pursued a fellowship in orthopedic sports medicine at Beaumont Hospital in Royal Oak, Ml. Throughout his fellowship, he gained invaluable experience treating athletes at various levels, including high school, college, and professional sports.
Dr. Ouillette treats a variety of musculoskeletal conditions including various shoulder conditions, such as shoulder replacement, shoulder arthroscopy, rotator cuff repair, and labral tears. Additionally, he specializes in elbow injuries, including elbow arthroscopy and tears of the distal biceps and triceps tendons. Dr. Ouillette is also proficient in knee conditions, including knee arthroscopy, cartilage defects, meniscus tears, and knee ligament injuries. In addition to his extensive expertise in sports-related injuries, Dr. Ouillette performs direct anterior hip and knee replacement surgery and treats fractures throughout the body, Achilles tendon tears, hamstring tendon tears, and a wide range of general orthopedic conditions.
Dr. Ouillette is committed to providing patient-centered care. He believes in educating his patients thoroughly about their orthopedic conditions, and taking the time to answer all their questions and concerns. He works collaboratively with his patients to develop personalized treatment plans that consider their unique medical needs and goals. His approach emphasizes exploring non-surgical options whenever possible, reserving surgery as a last resort treatment.
Practice Emphasis
Orthopedics
Special Procedures
Education / Certifications
Wayne State University School of Medicine
University of Texas Medical Branch Hospital