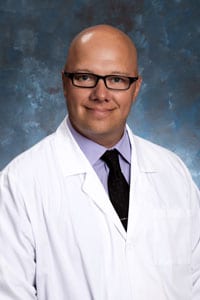 Bryan Wisniewski is a Board-Certified Family Nurse Practitioner at FASTMD. Bryan takes a collaborative approach when administering care to his patients working with physicians, chiropractors, physical therapists, physician assistants, and other ancillary staff to deliver the best possible patient outcomes.
He earned his Master of Science in Nursing at the Chamberlain College of Nursing and graduated with distinction. He earned his Associates of Nursing from St. Petersburg College where he graduated Cum Laude and earned his Bachelor of Science in Nursing from Chamberlain College of Nursing where he graduated with President's Honors.
He started his nursing career with the Medical Center of Trinity as an emergency room nurse then became an ER Preceptor, and charge nurse. He joined Dr. Siddiqi's practice in 2014 to expand his career with a focus on spine and orthopedics. Wisniewski has been a member of several professional memberships to include the American Nurses Association and the Emergency Nurses Association.
Practice Emphasis
Spine and Orthopedics
Special Procedures
Conservative Treatment of Spine and Orthopedic Diseases
Education / Certifications
Chamberlain College of Nursing