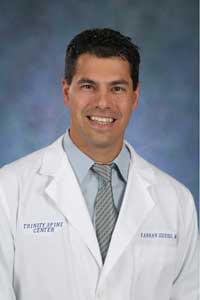 Dr. Farhan N. Siddiqi, MD
Farhan Siddiqi is a Board-Certified Spine Surgeon and is dual fellowship-trained in both endoscopic spinal surgery and reconstructive spinal surgery. Dr. Siddiqi received his medical degree from Cornell University Medical College and completed his fellowship training by Dr. Paul McAfee, Professor, Johns Hopkins University.
Dr. Siddiqi is a member of the North American Spine Society, Society for Minimally Invasive Spine Surgery, the American Academy of Orthopaedic Surgeons, and the American Board of Orthopaedic Surgeons.
Dr. Siddiqi lectures throughout the country on the treatment of back and neck pain with less invasive options including stem cell transplant and endoscopic laser surgery.
Practice Emphasis
Spine and Orthopedics
Special Procedures
Minimally Invasive Spine Surgery
Reconstructive Spine Surgery
Education / Certifications
Cornell University Medical College
John Hopkins University- Fellowship Training
Total Disc Replacement as a Fusion Alternative
While Fusion is a proven and effective treatment for alleviating spine-related pain, Total Disc Replacement is an exciting potential alternative for some patients.