The MEND Procedure - 

Back Pain and Sciatica Treatment
For all appointments and inquiries, please call 855-3FASTMD (855-332-7863)
Minimally-Invasive Endoscopic Discectomy (MEND)
For Successfully Treating Back Pain and Sciatica
The MEND procedure is a truly minimally invasive technique for successfully treating back pain and sciatica. This technique creates a very tiny opening (1/8 inch) that allows the surgeon to gain access to the painful area of your spine without damaging the surrounding tissues. This type of approach reduces your discomfort after the procedure and returns you to your normal lifestyle much quicker than more conventional approaches. We feel it is important to be an active participant in your own care knowing what to expect will help reduce your anxiety, make your time here more pleasant, and can even help speed your recovery times.
MEND procedures help protect the integrity of the spine and preserves the normal mobility because the spine is not fused with hardware such as screws and rods.
Our Endoscopic Spine Surgery is a true minimally invasive procedure that has revolutionized the treatment of back and neck pain. With experienced hands, most of our procedures take less than an hour and the patient is able to walk around in only a few hours.
Many of our minimally invasive procedures can be performed within our office including— Endoscopic Discectomy Endoscopic Facet Rhizotomy and Radio Frequency Ablations.
The MEND Procedure Offers the Following
2 Week Recovery Period
No Bone Resection
Tiny 1/8" Incision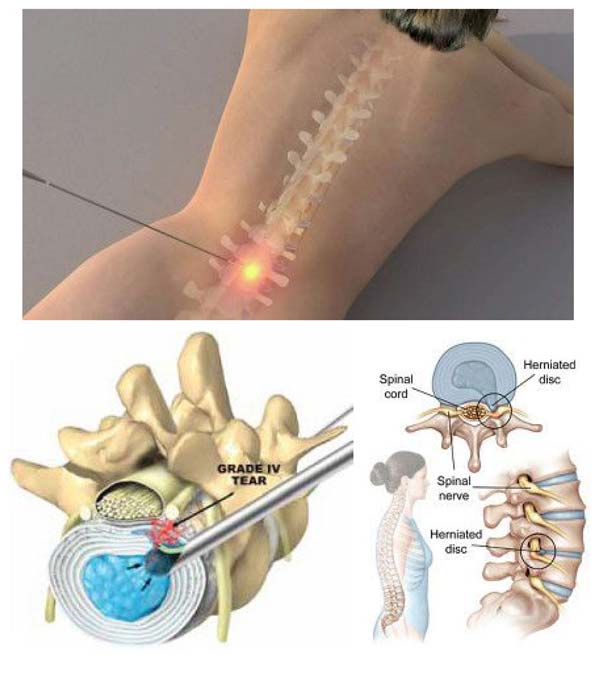 COMMONLY ASKED QUESTIONS:
Will I be able to go home the same day? - Yes. Patients typically leave our office 2 hours after the procedure. How long until I can resume my normal activities? - As a result of the approach of the MEND procedure, recovery is fast and scarring is minimal. You may need a day or two of rest following this procedure, however, you should be back to your normal activities within two to four weeks. Will I have pain after the procedure? - You will be released home the same day with orders for mild oral analgesics and instructions to use ice over the surgical site to reduce discomfort associated with the procedure. In most cases, pain is minimal following the procedure. How is the MEND procedure different than other more conventional procedures? - Unlike more conventional procedures that require bony removal from the spine and cutting of spinal supporting muscles to gain access to the painful area, the MEND procedure utilizes an endoscope to visualize and access the spine without causing damage to the surrounding tissues and without affecting the patient's natural mechanics of the spine. Will I be able to go home the same day? - Yes. Patients typically leave our office 2 hours after the procedure.
Stem Cells for Back Pain Florida Advanced Spine and Orthopedics
Our Stem Cell facility is located within our Trinity building and is in collaboration with the Foundation for Spinal Research, Education, and Humanitarian Care to offer patients treatment for back pain with stem cells. Patients are treated and then followed for 2 years to monitor how their back pain responds to their treatment.
The procedure is office based and does not require any anesthesia. Stem cells are injected into degenerated disks and joints in the spine after being harvested by a simple needle procedure. Stem cells have the unique ability to decrease inflammation and pain whilst initiating the stabilization and reparative process.
Dr. Farhan Siddiqi is an Assistant Professor affiliated with the University of South Florida. He has performed stem cell research that regenerates the degenerative spinal discs and joints in animals. The research has been accepted to peer reviewed National Presentations and was presented at the 2013 North American Spine Society Meeting, a premier International meeting on advances in the treatment of spinal disease. Our centers offer comprehensive spinal care with a focus on avoiding surgery unless absolutely necessary through a multidisciplinary approach to diagnosis and treatment of patients' disease. The stem cell procedure is only one of many innovative treatments available at the spine center including many other research trials with new technologies to treat spinal disease.
If you have any further questions as to whether you or a loved one may be a candidate for stem cell treatment for back pain please contact us at 855-332-7863. For information on our upcoming lecture schedule, please visit our website at www.TrinityStemCellInstitute.com .

Monday - Friday: 8:00 am to 5:00 pm
Saturday and Sunday: Closed
Call Today For an Appointment!
Phone: 855-3FASTMD (855-332-7863)
Main Fax: 727-372-7236
Tampa Fax:  813-398-3922
Pasco - Pinellas - Hernando - Hillsborough

Copyright © 2022 Fast Centers  All Rights Reserved