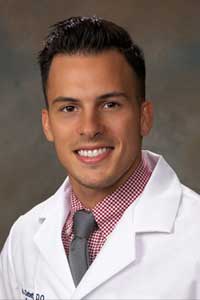 Dr. Andrew Corbett is an Orthopedic Spine Surgeon at Florida Advanced Spine and Orthopedics. Dr. Corbett earned his Doctor of Osteopathic Medicine degree from the Lake Erie College of Osteopathic Medicine in Bradenton, Florida, in May 2017.
He completed his Adult Deformity and Spinal Reconstruction Surgery Fellowship at the Sonoran Spine Center in Tempe, Arizona. Prior to his fellowship, Dr. Corbett completed his Orthopedic Surgery Residency at the University of South Florida Morsani College of Medicine.
As an active member of professional societies, Dr. Corbett holds memberships in the American Osteopathic Academy of Orthopedics (AOAO), the American Academy of Orthopedic Surgeons (AAOS), the American Osteopathic Association (AOA), and the North American Spine Society (NASS).
During his academic years, Dr. Corbett served as the Chief Resident in Orthopedic Surgery at USF Largo Medical Center. He demonstrated his leadership skills and dedication to the field. With his exceptional training, dedication to patient care, and ongoing pursuit of knowledge, Dr. Corbett continues to make a significant impact in the field of spine and orthopedics. Through his expertise and compassionate approach, he strives to improve the quality of life for his patients, providing them with personalized and comprehensive treatments for a wide range of orthopedic conditions.
Practice Emphasis
Spine and Orthopedics
Special Procedures
Education / Certifications
Lake Erie College of Osteopathic Medicine 
University of South Florida

Monday - Friday: 8:00 am to 5:00 pm
Saturday and Sunday: Closed
Call Today For an Appointment!
Phone: 855-3FASTMD (855-332-7863)
Main Fax: 727-372-7236
Tampa Fax:  813-398-3922
Pasco - Pinellas - Hernando - Hillsborough

Copyright © 2022 Fast Centers  All Rights Reserved